Unique design bringing you & your baby closer
Stokke® Xplory® X is the perfect choice for conscious parents who want the best for their baby without compromising on safety, quality, or style. Premium from top to bottom, Stokke® Xplory® X brings your baby closer for the connection they need to feel safe & loved.
The protective seat with active, rest & sleep positions gives your child ultimate comfort every step of the way. Innovative Scandinavian design makes Stokke® Xplory® X effortless to maneuver and handle. Carry cot or car seat accessories make it ideal for use from newborn.
A luxury ride for use from Newborn up to 22kg
Protective reclining stroller seat for baby's comfort
Tested and trusted for safety & quality
Secure infant car seat & carry cot for Newborn
Effortless to maneuver with swivel wheels
Features
COMFORT & CONNECTION
Complete stroller with high seat to keep your baby close - closeness & connection with their parents gives babies a sense of security
Three seat recline angles for all-day comfort: sleep, rest, active; reversible seat with parent- and forward-facing positions
Grows with your child from newborn to toddler, up to a weight limit of 22kg / 45lbs
Adjustable footrest in three positions for comfort at each age. Leg rest to support tiny feet & growing legs
Supports freedom of movement for the shoulders and arms
Extended canopy with visor for shade & protection
Extra quiet canopy folding doesn´t disturb your baby´s sleep
Canopy mesh opening for air flow; also functions as a window to keep an eye on your baby
Removable padded seat inlay for a custom fit; made in a soft, knitted, quick-dry material
Extra seat padding to support your newborn baby
SAFETY FIRST
Tested for safety internally and with external institutions
Hard shell bucket seat for increased safety and a snug fit
Supportive padding around head and hips
5-point padded harness for a secure ride
Removable hinged seat rail for quick access to your baby
360° reflective zipper to always be seen
One-push brake system for quick response
EASE OF USE FOR PARENTS
Height-adjustable seat can be set at various table heights so baby can join the family at cafés and restaurants
High seat helps avoid bending, making it easier on your back when interacting with your baby
Adjustable handle by height and angle to accommodate parents of all heights
Easy, one-step foldable stroller chassis
Practical to store and carry with stackable two-piece folding
Compact stroller size when folded to fit into the trunk of your car
Roomy, detachable shopping bag with carrying handle
A SMOOTH RIDE
Effortless to maneuver with one hand with 360° swivel wheels
Lockable swivel front wheels make it easy to maneuver the stroller in tight spaces
Removable wheels for easy cleaning
Puncture-free wheels require no maintenance
Open design with space between the back wheels makes it easy for parents to walk
PREMIUM QUALITY
Timeless & high-end design with form that follows function
Innovative Scandinavian engineering
Scratch-proof aluminum chassis
Extra soft premium fabrics with UPF 50+ sun protection
Water-repellent with BIONIC FINISH® ECO - based on a fluorine-free recipe (PFC-free)
Made in the Netherlands
3-year warranty
Specifications
| | |
| --- | --- |
| Product size (cm/in) | 101 x 56 x 131 / 39.8 x 22 x 51.6 |
| Weight (kgs/lbs) | 13.4 / 29.5 |
| Suitable for age | to 48 (months) |
| Suitable for weight (kgs/lbs) | up to 22 / 48.5 |
| Extended warranty | 3 (years) |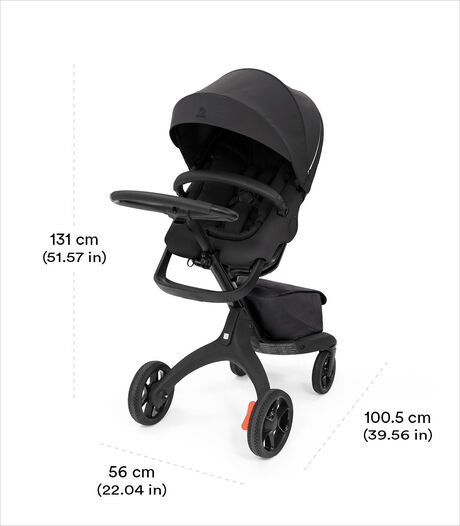 What's included

Stokke® Stroller Seat Baby Insert
Stokke® Xplory® Shopping Bag
Stokke® Stroller Canopy
Stokke® Stroller Harness Protector
Stokke® Stroller leatherette hinged rail for seat
Stokke® Stroller Visor for Canopy
Stokke® Xplory® Black Chassis with leatherette handle
Stokke® Stroller Seat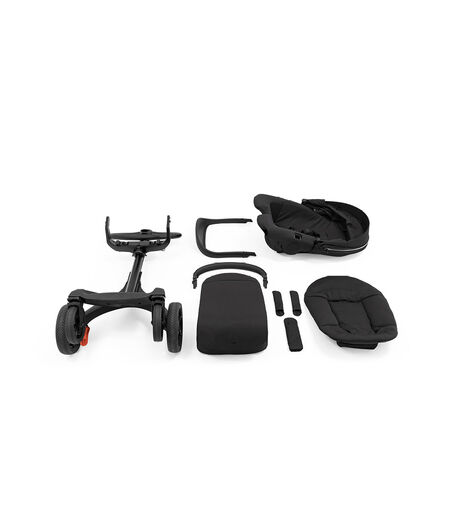 User guide
 https://www.stokke.com/on/demandware.static/-/Sites-stokke-master-catalog/en_AU/v1626096589580/documents/inriverdocuments/1048756%20Stokke%20Xplory%C2%A0X%20user%20guide%20TC_B.pdf
Maintenance:
Textiles
Must be washed separately!
When washing the baby insert, remove the inside cushion before washing.
Canopy can only be hand washed separately.
Seat lining, back cover and harness protectors can be machine washed at 40°C/ 104°F.
Leatherette, harness, shopping bag and diaper bag can only be wiped with a clean damp cloth. Be sure to remove excess water.
See the user guide for further instructions.
Hard parts
The stroller should be cleaned using a mild mixture of water with soap. Make sure that any sand/mud/grit is removed prior to cleaning.
All technical solutions are hidden in the chassis making it easy to clean and maintain.
If any function of the stroller is not working properly, please contact your nearest Stokke® retailer.
Compliance Standard
This product is suitable for children from 6 months to 22 kg or 4 years whichever comes first with a Stokke® Stroller Seat.
I need one pair of shoulder protecting corer.
Hi, I bought this Xplory. Recently, shoulder protecting cover is lost. Could you please deliver one pair to China?
Customer hotline in Shanghai could not be connected.
Thank you in advance!
The Ferrari of prams
Amazing pram and beautiful to push. Very easy to set up and use.
Stokke® Xplory® X
Best pram I've ever bought. Bought this pram for my fifth and last child and hands down it's definitely the best pram ever. Very easy to handle, smooth on most surfaces and apart from the seat recline feature the pram is very user friendly.